Offsite Shredding Services in Boston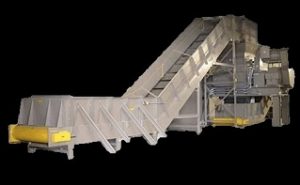 Ideally, offsite shredding works best for Boston businesses that have high volume shredding projects (10 boxes of paper-or more). Offsite shredding companies pick up documents and files from your location, and deliver them to a secure plant to be shredded.
Uniformed security professionals remove your secure documents and transport them in a locked truck to a secure Boston shredding facility. When the documents are delivered to the plant, the containers are weighed and recorded, they are then staged to begin the shredding process.
The material is fed into the shredder, which processes about 20,000 pounds per hour. The paper comes out the back side of the shredder where it is baled. Bales are shipped directly to a paper company where the material is recycled into new products.
Once the shredding is complete, a certificate of destruction is issued with the certified weight that verifies that the materials were destroyed in compliance with current Massachusetts and federal privacy laws.
Steps in the Offsite Shredding Process In Boston
Here's a brief overview of the steps you need to take to get an offsite shredding service for your company:
To start, you need quotes. Give us a call at (617) 517-3036 or fill out the form on this page. We'll help you find offsite shredding companies close to you in Boston, and send you free, no obligation quotes for your project.
Once you select the shredding company that fits your budget and requirements, they'll provide your office with locked shredding bins to store the papers you need to shred.
When the bins are full, a uniformed driver comes to your location and delivers them to a secure Suffolk County shredding plant.
The paper is shredded, baled, and sent to a recycling plant where it is pulped down into new paper.
Offsite shredding is a great way to ensure your files are destroyed at a great price.
Get Free, No Obligation Quotes on Mobile Shredding Services in Boston!
Boston Shredding and Records connects you to secure offsite shredding services throughout the Boston area. Our partners can pick up your documents and shred them for you at reasonable prices. For free quotes on offsite shredding services near you, fill out the form to this page, or give us a call at
(617) 517-3036.