Mobile Shredding Services in Boston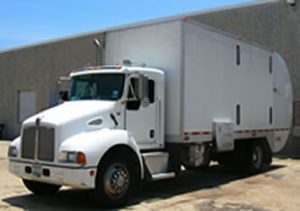 Boston Shredding & Records will connect you with secure mobile shredding services in Massachusetts and beyond. Mobile shredding combines the security of an offsite shredding plant and the convenience bringing a shredding services right to your curbside. Mobile shred trucks are totally self-contained and can destroy more paper in one hour than an average office shredder can shred in a month.
If you prefer (or are required) to watch your files being shredded, then an onsite mobile shredding service is for you. Mobile shredding trucks are configured so that you can watch your materials being destroyed without having to leave your office or disrupt your day.
For anyone in Boston that needs monthly, weekly, or bi-weekly, you can receive locked bins at your office. You accumulate all the documents you need to shred, and then a mobile shredding truck will come on a regular schedule to collect all your files and shred them onsite.
The trucks shred 6,000 pounds an hour so most jobs only take a few minutes, turning a job that might take days into one that takes hours. Your information is secure. The mobile shredding operator never comes into contact with your documents before, during or after the shredding process.
All shredded material is then taken to a recycling plant to be pulped and re-formed into new paper when possible.
Approximate Cost of Your Shredding Project
On average, a mobile shredding service usually costs around $130—if you choose to drop off your documents to be shredded, it usually costs about a $1 per pound.
You'll spend around the same amount of money on a mobile shredding service as you would to drop off three boxes weighing ten pounds each. However, with mobile shredding you don't even have to leave your office. If you have four boxes or more, it makes sense to use mobile shredding.
As the saying goes: location, location, location. If you are at the heart of Boston, it is probably more economical to have a mobile shredding service come to you. If you're located outside of the Boston area, the price could increase depending on your proximity to the processing plant.
How Does Mobile Shredding Work?
Here are the steps a Boston Shredding & Record's contractor takes when a mobile shredding truck comes to your office:
STEP 1:   You collect the papers, documents and files you need to shred in secure locked bins.
STEP 2:   The mobile shredding operator collects all these materials and brings the locked bins to the mobile shredding truck to shred them onsite.
STEP 4:   All documents are shredded in a sealed compartment in the back of the truck. You can witness the entire process from start to finish.
STEP 5:   Once the shredding is complete,  you are given a Certificate of Destruction detailing the job specifics.
STEP 6:   All shredded material goes to a recycling plant where the shredded and compacted materials are then recycled into new paper.
Get Free, No Obligation Quotes on Mobile Shredding Services in Boston
If you need mobile shredding anywhere in Massachusetts, Boston Shredding and Records can help. Our network of local contractors provides shredding services that come to you to shred your files while you watch. Fill out the form to this page, or give us a call at  (617) 517-3036 for free quotes on having a shredding truck come to your location to shred your documents while you watch.