Hard Drive Destruction in MA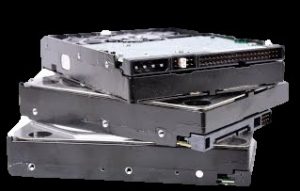 It is not just paper that has sensitive information at your Boston office. Even if you think a hard drive is inoperable, the information that's stored on it can be recovered a lot easier than you might think.
To make sure your data isn't compromised, Boston Shredding and Records recommends that every hard drive that leaves your possession needs to be securely destroyed. This is required for compliance with Massachusetts and federal privacy laws including HIPAA. Just deleting files is not sufficient to destroy the information- don't be the victim of a data breach.
Physically destroying a hard drive is the best way to ensure your data is completely unrecoverable. Boston Shredding and Records has providers in your area that can come to you and shred your drives onsite, or pick them up in secure, locked bins to shred them at a secure plant. Once they're destroyed, the pieces are melted down for metal recycling.
There's tons of data stored on hard drives throughout your office that aren't attached to your computer directly- copy machines and fax machines store critical information that must be removed before you send them back to the manufacturer or off to the recyclers. These devices store digital images, business records, phone numbers and more.
Hard drive destruction is a critical step in protecting your electronic information. Additionally, it can be key to protecting the environment. After the shredding process, the hard drives are properly disposed of while also complying with EPA regulations. Additionally, these services follow all state hazardous waste requirements. Keep your information safe while also protecting the planet.
Destroy These Types of Magnetic and Electronic Data
Hard drives
Thumb drives or jump drives
CDs or DVDS
X-rays
Credit cards or debit cards and more
Get Free, No Obligation Quotes on Hard Drive Destruction in Boston Today!
Boston Shredding and Records partners with contractors who can securely destroy your hard drives and electronic media, ensuring the data that's stored on them is completely unrecoverable. If you need secure hard drive shredding services on Long Island or in Garden City, fill out the form on this page, or give us a call at (617) 517-3036 for free quotes today.