Boston Shredding & Records
Boston Shredding & Records is dedicated to providing cost-effective solutions for the private information at your home or business. We understand the need to protect your sensitive documents and comply with all Massachusetts and federal regulations.
Shredding Services for Homes & Businesses
Paper shredding is not an option anymore. There are countless Massachusetts laws that mandate proper disposal of confidential business documents. Additionally, FACTA and HIPAA are federal laws that require the shredding of personal information before it is disposed.
In addition, throwing away personal information is opening you and your family up to identity theft, fraud, and tremendous long-term damage. Thieves still consider your mailbox and trash the best source for personal information.
Make sure you are not leaving them anything they can use to steal your identity and open credit cards in your name. Have a shred truck come out to your Boston home for the paper shredding your information deserves.
Knowing what to shred is one thing—but what's the most efficient way to do the job? A professional shredding service can shred mountains of documents quickly. Since the paper is shredded finely and co-mingled with other documents, you're decreasing the chance of a data breach or low-tech hack.
After the paper is destroyed you receive a certificate of destruction for your records. This is your verification that the work was done properly and in compliance with your records retention program—and your peace of mind.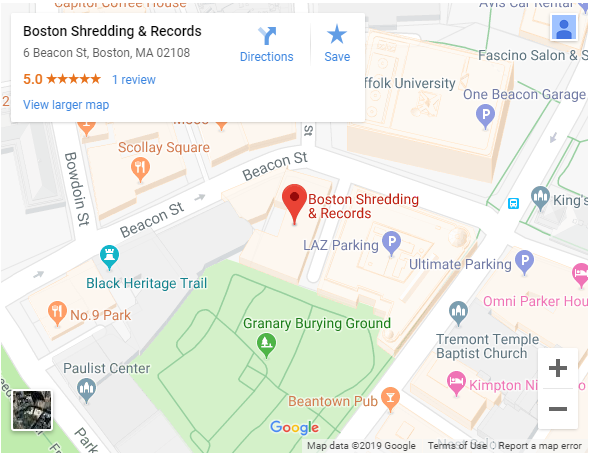 Let us help you protect your information today.
Boston Shredding Services